PelicanFast is an innovative and combined real-time payments processing and compliance solution, enabling banks and corporates to make and receive real-time payments internationally. Legacy systems designed for end-of-day batch processing can struggle to adapt to the demands of today's 24/7 anywhere, anytime, instant payment expectations. PelicanFast's modular architecture delivers the services consumers and businesses expect - complete payment and compliance solutions in real-time. Available as a combined and comprehensive real-time platform, the payments and compliance modular solutions are also available separately.
Pelican is a designated Frontrunner service provider by EBA Clearing to facilitate connection to the pan-European real-time payment infrastructure across 34 European countries. The PelicanFast modules for payments processing and compliance are available individually or combined and are adaptable for multiple real-time payment schemes.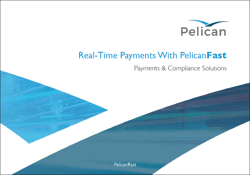 To read this brochure, please fill in the form on the right, and click 'Download Brochure'.