The Advanced Corporate Treasury: Understanding How Sanctions Affect Your Corporate Payments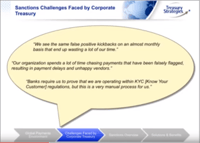 In our conversations with corporate treasurers within multinational organisations across the globe, mainly two challenges have come up: lack of resources as well as high cost of handling false positives and manual processes for operating within KYC regulations.

Technology can help solve these challenges by making sure that all hits are identified at the lowest cost, keep false positives low and reducing reputational risk by adhering the KYC regulations.
Pelican can help.
To watch this video, please fill in the form on the right, and click 'Watch this Video'